AOBL is a professional manufacturer of double diaphragm pumps, designed and manufactured for industrial and chemical transfer applications. We are always committed to continuously developing the most complete line of diaphragm pumps, including air operated diaphragm pumps, electric diaphragm pumps and specialty diaphragm pumps. With a wide range of flow and size options. Both metal and plastic housings easily handle corrosive and abrasive fluids. Leading the way in quality, durability and availability.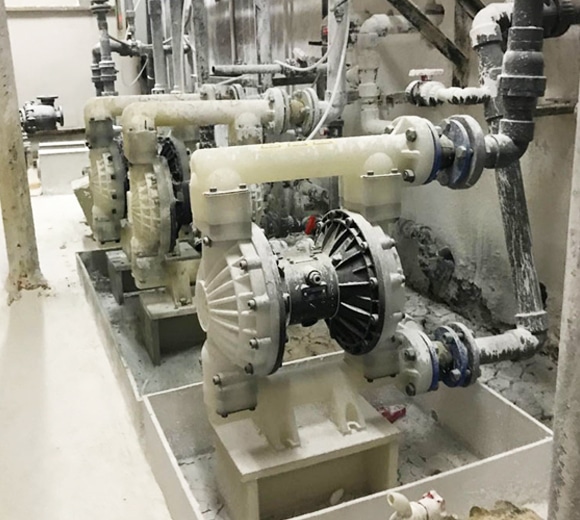 Pneumatic and electrically operated double diaphragm pumps for a wide range of applications
AOBL's air-operated double diaphragm pumps feature a unique design construction with stall-free, low-pulsation air valves to ensure fast changeover and minimal downtime.
AOBL's electric double diaphragm pumps are ideal for applications that require low pulsation and smooth flow. Our energy-efficient electric drives reduce energy consumption significantly compared to conventional air-operated diaphragm pumps.
Each pump is built with rugged materials and construction to resist corrosion and wear, and provide long, trouble-free product life.
Air operated or electric diaphragm pumps?
The choice of an air-operated or electric diaphragm pump depends on many factors, including the application site, flow rate, pressure, media and budget. The following are some of the main points to consider:
Application site: pneumatic diaphragm pumps are usually used outdoors, in heavily contaminated or explosion-proof applications, while electric diaphragm pumps are usually used indoors or in less explosion-proof applications.
Flow: pneumatic diaphragm pumps have a larger range of flow adjustment than electric diaphragm pumps.
Pressure: pneumatic diaphragm pump pressure is higher than the electric diaphragm pump.
Media: pneumatic diaphragm pumps have a small shear force on the medium, suitable for conveying high viscosity media, such as lubricants, paints, etc.
Budget: The cost of pneumatic diaphragm pumps is usually lower than that of electric diaphragm pumps.
Drive mode: pneumatic diaphragm pumps are pneumatically driven, electric diaphragm pumps are electrically driven.
View AOBL double diaphragm pump products
Superior engineering for lasting performance
Customizable Fluid Sections
Easily customize your fluid selection with AOBL's fluid transfer pumps with housings that can handle all fluids, including corrosive and abrasive.
Multiple Power Source Options
Depending on your application needs, AOBL's double diaphragm pumps are available in pneumatic and electric configurations to meet field conditions
Proven reliability
We design and manufacture double-diaphragm pumps to withstand the harshest operating environments. The best materials and the highest quality standards.