What Are Diaphragm Pumps Used For?
Diaphragm pump, also known as a double diaphragm pump, is a positive displacement reciprocating pump that has an internal set of diaphragms that work simultaneously to generate pressure to push fluid through the pump.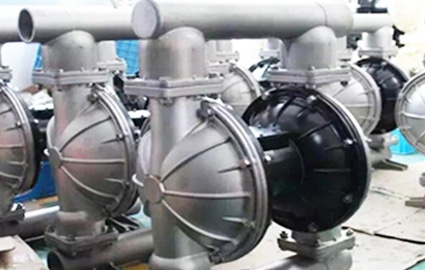 Diaphragm pumps are indispensable tools in numerous industries due to their versatility, reliability, and ability to handle a wide range of fluids. These pumps find applications in various sectors, contributing to efficient fluid transfer and processing.
Uses for Diaphragm Pump
Diaphragm Pumps in Water Treatment
Diaphragm pumps are employed in waste water systems for pumping and transferring various types of waste, including sewage, sludge, and effluent. They can handle solids and semi-solids, making them suitable for such applications.
Diaphragm Pumps in the Chemical Industry
Diaphragm pumps are extensively used in the chemical industry for handling and transferring chemicals, acids, solvents, and other aggressive substances. Their ability to resist corrosion makes them suitable for such applications.
Diaphragm Pumps in the Pharmaceutical Industry
Accurate fluid transfer is important in pharmaceutical production. Diaphragm pumps contribute to the safe and precise transfer of solvents, acids, bases and other pharmaceutical ingredients. They are used in all stages of pharmaceutical production and formulation.
Food and beverage industry
They are typically used to pump liquids such as juices, sauces, dairy products and liquid ingredients, while maintaining hygiene and avoiding contamination.
Mining and construction
Diaphragm pumps are used in mining and construction sites for dewatering excavations, pumping mud and slurry, and pumping abrasive materials such as sludge and silt.
Agriculture and irrigation
Diaphragm pumps are used in agriculture for tasks such as crop spraying, irrigation, and transporting water and fertilizers. They are often selected for their self-priming ability and their ability to convey dirt and small solids.
Automotive and Manufacturing
Diaphragm pumps are used in the automotive and manufacturing industries for fluid transfer, lubrication systems, coolant circulation, and other processes requiring precise and controlled fluid delivery.
Environmental monitoring
Diaphragm pumps can be used in environmental monitoring applications to collect and transport samples to test facilities and then use air samplers and water quality analyzers.
Medical and laboratory applications
Diaphragm pumps are used in medical equipment, laboratories and research facilities for fluid handling, vacuum generation and filtration processes.
Fluid transfer
Diaphragm pumps are typically used to transfer liquids and gases from one location to another. They can transfer a variety of fluids, including corrosive, abrasive, viscous, and volatile.
How diaphragm pumps work?
Pneumatic diaphragm pumps use compressed air or gas to flex a diaphragm, to create suction and discharge pressure. When air is applied to one side of the diaphragm, it moves away, and draws fluid into the pump chamber through an inlet valve. When air is directed to the other side of the diaphragm, it flexes in the opposite direction, and forces the fluid out through an outlet valve.