Vertical plastic corrosion resistant chemical pump. Used for lifting, circulating, and transferring corrosive liquids (acidic and alkaline), clean industrial liquids, liquids containing various impurities, and waste liquids. Length can be customized according to the application. Widely used in painting, pickling, circuit board, spraying waste gas industry.
Maximum Flow: 1800 LPM
Maximum Head: 35 m
Material: FRPP, GFRPP, PP, PVDF
AOBL vertical chemical pumps are designed to handle acids, alkalis, highly corrosive chemicals and general hazardous liquids. Our corrosion resistant acid pumps are available in a wide range of types as well as a wide range of advanced chemical resistant materials.
Lengths can be customized. Power, voltage, frequency, motor, etc. If you have special requirements, please contact us to communicate your specific requirements.
Features
Innovative dry external shaft seal design, no friction when the motor is running.
It can be idled for a long time without damage and has no disadvantages such as medicine leakage.
Longer service life, power saving and high efficiency.
Enhanced material, strong corrosion resistance.
Resistant to strong acid and alkali.
Capable of handling liquids containing solids.
Unique design, low maintenance cost.
Length can be customized for various occasions.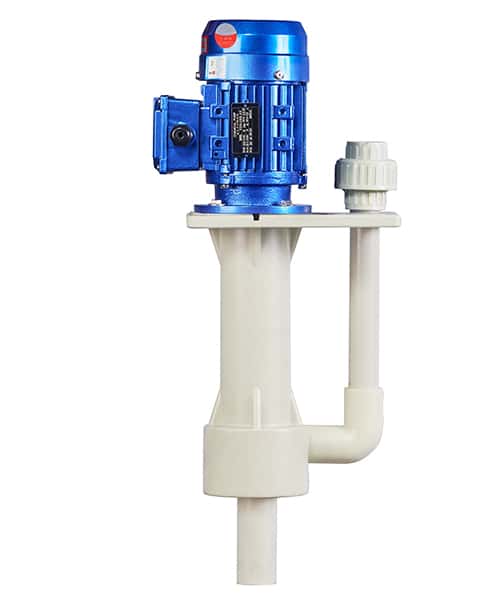 Applications
Plating tank
Pickling lines
Fume and odor control
Scrubbers and scrubber towers
Petrochemical systems
Seawater treatment
Desalination plants
Acid water neutralization
Purification Plants
Precious metal recovery
Lithium production
Fertilizer production
Fluid Industry
Wastewater Pumping
Vertical chemical pump is suitable for waste gas tower

Vertical pumps are used for paint pump etching

Used in reaction tanks or filter compressors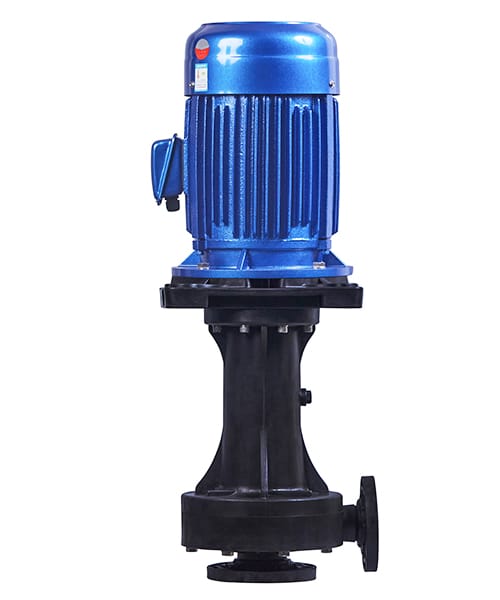 chemicals
Sulfuric acid
Nitric acid
Hydrochloric acid
Citric acid
Brine
Ammonia
Caustic potassium
Fertilizer
Glycerin
Solvents
Seawater
Caustic soda
Bromine water
Sodium hydroxide
Chromic acid
Sodium hypochlorite
Hydrofluoric acid
Ferric Chloride
Polyaluminum chloride
Phosphoric acid
Flocculants
Polyelectrolyte
Sterilization Gel
Industrial Oil
Industrial detergents
Acetic acid
Hydrogen peroxide
Anhydrous nitric acid
Fuming sulfuric acid
| | |
| --- | --- |
| Brand | AOBL |
| Maximum flow | 18 LPM – 1800 LPM |
| Maximum head | 2 m – 35 m |
| Motor power | 0.06 kW – 15 kW |
| Model type | in tank / out of tank |
| Optional material | PP, PVDF, FRPP, GFRPP |
Technical Parameters